A Ten Minute Website Audit to Increase your Conversions by 200% or More
If you're in a service based industry there is no argument that there has never been a better time to connect potential customers to your service offerings. Take into account that doing so has also never been more affordable for the average business owner and you're set up for explosive growth.
With the click of a button you can now target users in your area based on gender, income, buying habits and much, much more (As in like… "scary" more). Already have a paying customer base? You can now upload your existing customer list and specifically target those who have already purchased from you across nearly 100% of the web. Want to reach new customers? Well, you can now take your existing customer list and request a "Look a-like" audience that has the same demographics and buying habits as those who are currently your customers.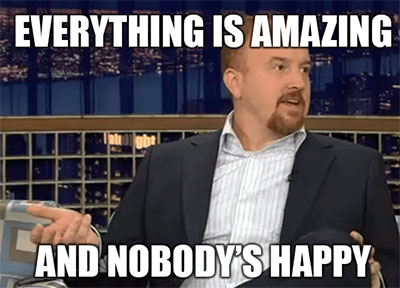 What an amazing time to advertise right? Well… there is one more key component to the equation you may not have nailed down yet and it might be the reason you're not seeing the results you anticipated… your website. Targeted digital marketing is fantastic but without your "end of the funnel" optimized to turn those inquisitors into customers with cash-in-hand, you'll simply be flushing away your ad spend and fattening the investors' wallets at Facebook and Google. Below we will cover a quick website audit checklist to make sure all the hype doesn't lead to lost opportunities when a potential customer clicks through to your website.
When you know you have a website that converts lukewarm leads into hot prospects, you have the competitive edge in knowing you can push traffic from any source you'd like and still come out with a positive ROI.
Trust: Would I put my credit card into this website?
Regardless of whether you're selling anything on your website or not, thinking of your website as an e-commerce store is a great way to put yourself into the consumer mindset. Many people feel that giving away information such as e-mail & phone numbers is just as intimate as entering a credit card. Honestly ask yourself if you'd be willing to enter your credit card on your own website based on how professional the look and feel is.
Ease: Do I have very visible and easy to fill out forms for people to request more information?
Most important is a form "above the fold" (this means that the form is clearly visible without having to scroll down) on the homepage of your website. We look at A LOT of analytics and we can tell you that a homepage form out-performs all website requests by over 60%. We could go on for days about the science behind forms and what your big "Ask" is from a customer but here are a few of our most powerful tips:
Have at most 2 personalized form fields besides name, phone and email. Too many questions and you'll turn people away, too few questions and the visitor will feel like you don't truly care about the problem they came in search of an answer to (in other words, the "slimy salesman").
Add an SSL certificate to your website. It's easy and cheap. This tells people that when they send in their form, their information is encrypted. In addition, Google now rewards you for it with higher rankings (although a very small part of the algorithm)
Preselect form fields for the visitor based on their location within your website. I'm already on the plumbing page, why is "Plumbing" not already selected in the "Service Type" field?
Use a multi-select field rather than a normal "one-choice" dropdown. This will allow people to also choose a "Furnace checkup" along with that plumbing service they initially came in search of. It's an easy way to upsell the customer on additional services they may not have known you were capable of.
Add the following to the bottom of all your lead forms: "We view your privacy just as important as our own. Your e-mail will never be shared with any third party and opting out of our e-mails is just one click away". A decision to request more information from your website is a series of synapses firing away in the consumer's brain. Simple ways to build trust helps tip the scale in your direction.
Like we said, we could go on for days but we'll stop there and move on to the next item…
Transformative: Does my website cater to the actions of visitors on ALL devices?
I'm so incredibly sick of hearing "responsive" design thrown around like it is the greatest thing since sliced bread. "Responsive design" is a stupid word some marketer came up with that means "eliminating roadblocks". Stop thinking about responsiveness as "compatibility" and start thinking about responsive as putting the actions of the consumer first. It's quite simple: If a visitor is on a smart phone, are they really going to want to explain all their case details to a lawyer in a tiny little box they have to finger-peck their sob story into? No, they're probably going to be more inclined to call and explain things over the phone since they're already on a device that is capable of doing so. That's why we make a phone number so prominient above the fold when a smart phone with a cell connection is detected.
Go ahead and get out your smartphone, bring up your website and be sure you're making it easy for visitors to contact you. A few more ideas… Eliminate form fields that ask too much when a smart phone device is detected. Perhaps you should add "Get Directions" prominently on smartphones if you serve people at your business location. Again, separate yourself from your business and put yourself into the mind of the consumer.
Psychology: Does your website messaging get people to get up and take action or bore them to death?
This is probably one of the biggest and most important items lost by the majority of website design agencies. Sure, they speak well in code and colors but they lack the experience and knowledge in the field of consumer psychology to tell a story that gets people to take action. Copywriting is an art form and a massive competitive edge that is getting lost as the barrier of entry to website design is lowered. Now a budding website design company can throw up a shingle, buy a template for fifty bucks, throw your info into it and declare themselves king-of-the-world "digital marketers". This is why our digital properties perform remarkably better than those of our competition: we focus on driving consumers to action, not yelling as to why your company is so great and then boring them to death with the details of why.
What I love about a website is that you're solving a problem, not throwing up an archaic billboard or placing interruption advertising and hoping someone at the right time, in the right frame of mind, is ready to buy. They typed into the search box "Best Local Payroll Company" and your website came up first. Now is your opportunity to tell them how you can solve their problems and make them feel like they're making an excellent decision by requesting a free payroll review from your experts and why doing so will ultimately benefit their bottom line.
Set aside a half hour or so to go through your website (especially above the fold on your homepage) and re-examine the message you're sending to your customers. Gather a few 3rd parties that might be in the market for what you're offering and ask if they're driven to action by what they see and read.
Take the time to audit your website conversion funnel today and get more qualified leads tomorrow
There's no better way to increase the impact of your digital marketing efforts than by taking the time to audit your website conversion funnel. If you're interested in a third party review of your website, schedule a digital marketing consultation and tell us a little about your business and where you think you could see some improvement. We'd love to get you re-aligned on the path to higher conversions.
---
---
Back to Blog