3 Real World Examples of How Your Business Can Take Advantage of Custom Audience Targeting
It seems on a nearly daily basis new tools are becoming available to businesses that can help you better connect you with both your current and potential customer base. First it was Google AdWords which allows you to present your solution to a customers' problem right at the exact time they are looking for a fix. Then Facebook came along and dug deep into the consumer behavioral patterns of their members to help you get your brand in front of an audience that was once nearly inaccessible to you. Now, with Custom Audience targeting (Now FINALLY available as a feature in Google AdWords), you can upload a list of your customer e-mail addresses to multiple networks and laser target your audience with an equally laser targeted message across nearly 100% of the web.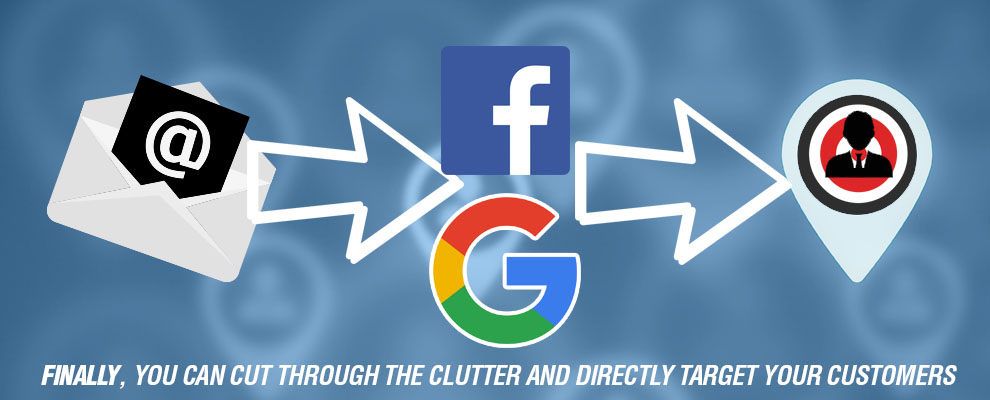 While tools such as Custom Audience targeting bring amazing opportunities for businesses, sometimes it can be difficult to visualize how a new feature can really help grow their actual bottom line. Below we'll examine three entirely different businesses and give an example of how Custom Audience matching can increase your revenue while reducing your ad spend.
How a Car Dealership can take Advantage of Custom Audience Targeting
Car dealerships deal a lot with emotion. A simple test drive of a vehicle can move the customer decision making process from lukewarm to burning hot. It's also an industry where there can be a bit of apprehensiveness in the back of the consumer's mind, regardless of how trustworthy a dealership actually is. Custom Audience targeting is a great way for a dealer to instill the trust they deserve, present incentives, and ultimately push the consumer over to their side of the fence and get them into the vehicle they've been dreaming of at a price they're happy with.
Let's follow the rabbit down the hole…
An interested buyer visits the dealership for a test drive and the salesman takes down the customer's name, phone number, and e-mail address.

The buyer finishes the test drive but informs the salesman they need some time to think about it, talk to their significant other, run the numbers, etc., etc.

After the customer leaves, the salesman logs-in and enters the customers e-mail address into a Custom Audience remarketing funnel.

Over the next week or two the customer is presented with a series of messages as they browse the web and Facebook which cover the low interest rates available to them, the high reliability of the vehicle they're interested in, and the special manufacturer's incentives for their vehicle.
Results? The potential buyer gets that extra push they needed over the next few weeks to close the deal and shows up at the dealership a little while later with a down payment check in hand.
As you can see from the example above, Custom Audience targeting is an excellent and cost effective digital marketing tool that allows a business to laser focus on a potential customer that has expressed interest in a particular service or product. How can you apply this to the lukewarm tire-kickers in your industry?
How an HVAC Company can take Advantage of Custom Audience Targeting
Heating and cooling services can sometimes be one of those services that only gets called when something has gone horribly wrong. Any HVAC business owner knows that a great service for a homeowner, and a great source of revenue for their business, is routine seasonal maintenance that keeps their heating or cooling system operating efficiently and safely. The only problem is that some homeowners may forget to re-up their service contract or the direct mail postcard you sent as a reminder ends up in their trash pile rather than the "must-do" pile.
By keeping a pre-season Custom Audience campaign running at key times of the year, your maintenance contract customers can be seasonally targeted for a gentle (or urgent) reminder.
Let's take a look at the process…
Customer signs up for seasonal maintenance and the service tech goes out into the field to perform the job.

The service tech returns to headquarters and enters the e-mail of the customer into a Custom Audience targeted campaign for future services - along with the type of equipment they serviced.

The following season, a Custom Audience campaign can be turned on and turned off two months before the summer season and two months before the winter season which will remind your maintenance contract customers to schedule their service call online and keep their home, and their family safe in the upcoming season.
Results? You just achieved a 400% increase in renewals for seasonal maintenance from the previous year all for a fraction of the cost of advertising your maintenance special through traditional media.
Does your business offer seasonal services? Imagine the various messaging you can place in front of your consumers at the right time of year for a nice recurring boost in sales.
How a Retail Store can Take Advantage of Custom Audience Targeting
Ski shops and bike shops (to name a few) normally have customers that are fanatical about the brands they use in the sports they love. With those "Brand Ambassadors" comes a great opportunity to get back in front of a customer when a new product line first hits the market. These early adaptors are known for wanting the best regardless of the cost (think Apple products…).
Let's see how the average shop owner can use this system to his or her benefit…
Shop owner gets notified from manufacturer that a new road bike is about to be shipped by Brand XYZ.

Shop owner promptly gets into his point of sale software and pulls out any customers who have purchased 2 or more Brand XYZ products from his store in the past 2 years.

Shop owner then pulls a very compelling ad together that offers an incentive to be one of the first to test ride the new cycle after a quick product demo at the store.

Lastly, the shop owner uploads his filtered customer e-mail list to his ad networks to get his extremely targeted ad in front of a very laser targeted audience. To go a step further, the shop owner could also have a targeted landing page created so interested parties could RSVP for their test ride and effectively give them a feeling of exclusivity this type of customer typically values.
Results? The shop owner now has 40 excited buyers lined up for his in-store demo and subsequent ride who can't wait to try the product that isn't even on his shelves yet. Beyond this is another great opportunity to upsell on accessories from the same brand…
Do you have a brand that produces customer loyalty? You may be sitting on a goldmine of past customer purchasing data if paired properly with a Custom Audience campaign.
Get Started Today with Custom Audience Targeting for your Business
If there is only one thing to take away from all these examples it is this: Religiously and fanatically collect your customer e-mail addresses. Without them, none of the scenarios above have even a glimmer of opportunity nor will any opportunities from new tools and platforms down the road. If you need help setting up Custom Audience targeting or simply have questions, call us or send in a request for consultation to get a conversation started.
---
---
Back to Blog